The content below is from Episode 149 of the Who'd a Thunk it? Podcast
RECOMMENDATION SEGMENT
Next Level Chef

Yes, it isn't my typical kind of show and if it weren't for my wife Shannon, I probably wouldn't watch any reality competition show like this. But I'm glad I do.
It started with the Great British Baking show which is such a happy feely baking show. Then we binged a couple seasons of Master Chef.
Well the latest food competition show we are obsessed with is Next Level Chef starring Gordon Ramsay.

We love watching Gordon lol
I particularly love the fact that he is known for being a hardass on his adult shows, but when he is working with children he turns into the sweetest guy on the planet LOL.

The plot of the show: Chefs Gordon Ramsay, Nyesha Arrington and Richard Blais recruit talented chefs and take them under their wings as they face unique cooking challenges in a one-of-a-kind culinary gauntlet with the goal of finding the food world's newest superstar.
It is in Vegas and the 3 storied kitchens makes this show unique. There is the basement kitchen which has dull knives and very little options for cooking. There is the the middle kitchen which is like a standard mid level restaurant kitchen, then the 3rd level is a kitchen with REALLY expensive equipment.

The contestants don't know what ingredients they get until they are lowered on a platform through the three levels. So the 3rd floor gets first pick, 2nd floor gets 2nd dibs, and the basement gets the last picked ingredients.

Shannon and I enjoy it. I think you might too
NOW FOR THE MAIN EVENT
John Fitzgerald Kennedy was born May 29th 1917 (During WW1)

At the age of 43 on January 20th 1961 he would become the 2nd youngest US President. The 35th President of the country's history.
He would infamously be assassinated on November 22nd of 1963.
If you ask someone on the street what the first thing they think of when you bring up JFK, they will most certainly say his death… but the man lived a… colorful life.
Today's eipsode is about one small story from his life, before he ever became president of the Free world.
Above Image:
John F. Kennedy and the crew of PT-109 in the Solomon Islands in 1943. Back row, left to right: Allan Webb, Leon Drawdy, Edgar Mauer, Edmund Drewitch, John Maguire, Lt. j.g. John F. Kennedy. Front row, left to right: Charles Harris, Maurice Kowal, Andrew Kirksey, and Lenny Thom. Photo courtesy of the John F. Kennedy Presidential Library and Museum.
Many young Americans of all backgrounds volunteered for military service in 1941, including young John F. Kennedy.

He was 26 years old when he almost died in action serving in the South Pacific. A Japanese destroyer ran into his patrol torpedo boat. This event lasted like 8 days and when it was all over two heroism awards were given out. Through it all, a coconut was involved. This coconut would go from the waters of the south pacific to the Oval Office.
It was one of those dark dark nights with no moon and clouds blacking out the stars on August 1st of 1943. The patrol torpedo boat PT-109 was in the Blackett Strait just south of Kolombangara of the Solomon Islands. PT-109 was under orders to run silently through the night to avoid being detected by enemies.

At the helm was skipper Kennedy, a lieutenant junior grade. He scanned the horizon and spotted the "Tokyo Express," the name US naval personnel gave to the Japanese destroyers tasked with escorting supplies and soldiers to Guadalcanal.
PT-109 fired 30 torpedoes at 3 battleships and one escort vessel… none hit their targets.

A splendid waste of Tax Payer dollars
Then the PT-109 received orders to return to base. Four boats including the PT-109 got into formation to head back to base but still cover their retreat. All was well until one boat suddenly broke off formation to pursue a Japanese target.

The ship that broke formation was the only boat with radar capabilities so when it left it left the other three boats practically blind.
To make matters worse, the waters of the Solomon Islands have phosphorescent plankton residing within them and the skippers of the blind boats knew that going through these glowing plankton plumes would leave a glowing trail behind their boats. This would be like a giant glowing arrow for aircraft. They were literally glowing targets to enemy aircraft. So they trudged onward towards what they thought was the direction of home base using only 1 of 3 engines.

Hopefully the slowed retreat would disturb less glowing plankton.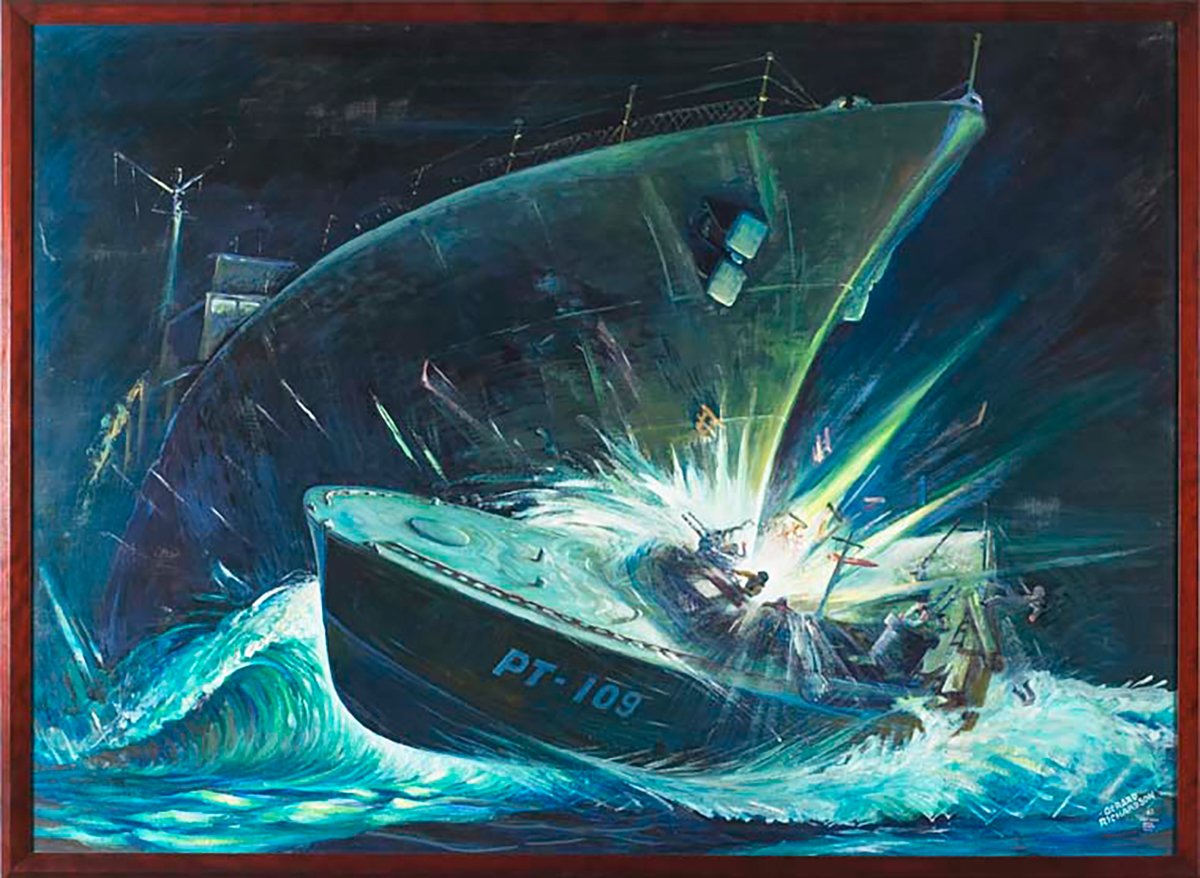 That night around 230AM, as the 3 boats retreated, Kennedy noticed a black shape coming for the PT-109. At first he thought it was another patrol torpedo boat, but as it came closer he noticed it was a Japanese destroyer vessel called the Amagiri.

Traveling at about 40 knots about to collide with the PT-109, Kennedy suddenly tried turning his boat right to aim at the enemy destroyer. He hoped he could get the torpedoes out and strike the enemy, but it was too late.
From the time they noticed the Japanese Destroyer to when it struck the PT-109 was about 10 seconds. The Amagiri rammed and cut the PT-109 in half. The impact killed two US sailors instantly. Kennedy had just barely escaped his cockpit and with the 10 other survivors was left floating in South Pacific in the dead of night.
The Amagiri sped off and its massive wake put out the flames of the impact. Kennedy was clinging to wreckage from the PT-109 with 4 other members of the crew.

He called out for more survivors and heard replies from 6 other men.
Motor Machinist Mate Patrick McMahon was badly burned from the PT boat's fuel tank exploding on impact.
Gunner's Mate Charles Harris was severely wounded.
The 6 survivors not by Skipper Kennedy's side were about 100 yards from the wreckage of the PT-109. But it took Kennedy 3 hours to rescue them in the pitch black night.
Once all were together they talked about what to do next.
"There's nothing in the book about a situation like this. A lot of you men have families and some of you have children. What do you want to do? I have nothing to lose."

Kennedy
There wasn't much debate amongst the survivors, I suppose the dire situation made the sailors much more agreeable.

They ditched the PT-109 wreckage and tried for swimming to the nearest island named… I kid you not… Plum Pudding. But Plum Pudding was three and a half miles away…
The distance was manageable for Kennedy, who had been on the Harvard swim team. But he also took on the arduous task of towing McMahon, holding McMahon's belt in his teeth. Several of the other men were good swimmers, but two couldn't swim at all — they had to be pushed and pulled along on a plank the entire distance.

I'm not sure if the two sailors who couldn't swim were unable to do so because of injury or if they just didn't know how to swim…
but I am always baffled by people who can't swim. I realize not everyone has the same opportunities as myself and so not everyone gets the opportunity to learn how to swim as a child. But it just seems like such a huge risk like every body of water is a death sentence…
It is especially baffling that US Naval personnel didn't know how to swim.
The first to arrive at Plum Pudding island was Kennedy himself, though he was completely exhausted. The survivors of PT-109 quickly dubbed their refuge Bird Island because there was so much bird crap on the bushes.

McMahon (the burn victim) had to help Kennedy for the last few yards to shore. Kennedy was that exhausted.

I've had to drag people in a swim before. It is insanely frustrating, awkward, and just sucks the energy out of you at an astonishing rate.

I should note the time I had to drag someone in the water was when I was teenager. My friend Adam and I were swimming in a river in upstate Pennsylvania. Adam got unexpectedly swept underwater and panicked (as I'm sure most people would). To keep him from panicking himself to the point of drowning I approached him and began to drag him to shore. I'm a decent swimmer, but He was punching and kicking and I made very little progress. Luckily my dad was watching from a rock about 8 feet above the water. He jumped in and took over the rescue.
So my experience is very limited, but I have a vague idea as to how hard it is to drag people while swimming for just a few yards.

Back when I was a teenage athlete working out regularly and younger it was taxing as hell. Now I'm a nearly 30 year old work from home dude that goes to Planet Fitness only like 3 times a week. I doubt I could even swim drag someone a few yards now.

I cannot imagine swimming 3.5 miles in the pitch black, in the pacific ocean, in enemy waters, with not one teenager, but a full grown men in tow.

Once he had a chance to regain some strength, Kennedy swam to Ferguson Passage. The passage was commonly patroled by American PT boats.
Swimming over sharp coral reefs for over an hour Kennedy eventually gave up on the idea of being rescued that night. He began swimming back to Plum Pudding island but the currents that night were deceptively strong. Kennedy nearly drowned trying to get back to his crew before he gave up and settled on Leorava island southeast of Plum Pudding island.
Kennedy Island (local name Kasolo Island, also known as Plum Pudding Island), is a 1.17 hectares (2.9 acres), uninhabited island in Solomon Islands that was named after John F. Kennedy, following an incident involving Kennedy during his World War II naval career. Kennedy Island lies 15 minutes by boat from Gizo, the provincial capital of the Western Province of Solomon Islands.
The crew spent the night on Plum Pudding island and Kennedy on Leorava island. They regrouped as soon as possible.

Instead of sitting and waiting for rescue, they decided to get up and move. They began swimming from island to island looking for water and food.
Ensign George Ross accompanied Kennedy in exploring the last island in the chain Naru Island.
From Naru they were able to see Ferguson Passage. They sneaked down to the beach and discovered a Japanese wreck where they were able to get their hands on a carepackage full of Japanese candy.

Candy may not have much nutritional value, but it has calories and can be a major morale booster.
Not far from the Japanese candy, Kennedy and Ensign Ross found a canoe stashed in some bushes and then spotted two guys paddling away in a canoe. They approached the men the very next day and found they were coast watchers for the Allies. There names were Biuku Gasa and Eroni Kumana.

The islanders' canoe couldn't carry all the survivors. It could barely hold two men.

These allied scouts helped the allies by reporting on Japanese positions, but they did not speak english. So Kennedy thought of another idea: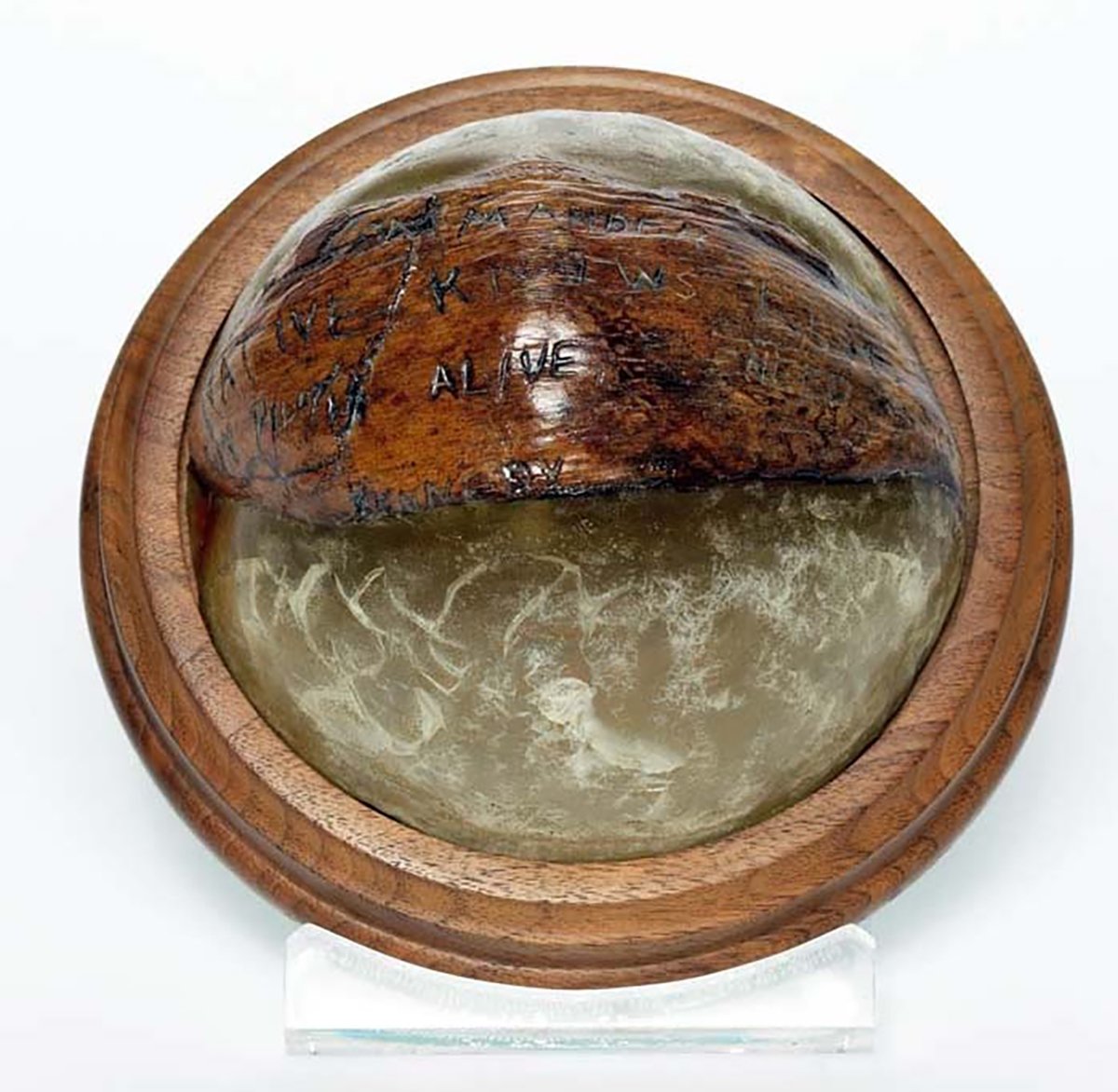 Biuku Gasa and Eroni Kumana took the coconut message.

This message, after rowing their dugout canoe at great risk through 35 nmi (65 km) of hostile waters patrolled by the Japanese, was then delivered to the nearest Allied base at Rendova.
The next morning, the two men returned with a letter from Australian coast watcher commander Lt. A. Reginald Evans. The letter informed Kennedy to travel with the islanders to Gomu Island in Blackett Strait. The islanders hid Kennedy under a pile of palm leaves and paddled him to meet with Evans.
At this point, PT-109 had sank 6 days ago. When Kennedy reached Rendova he told the rescuers they had to let him guide them through reefs and shallows.

On the night of Aug. 7, Kennedy signaled the rescue boats with three shots from his revolver and a fourth from a rifle while standing in a canoe. He didn't anticipate the recoil from the rifle and was knocked off balance, falling out of the little boat and into the water. PT-157 arrived at the rendezvous point and pulled Kennedy aboard.
On the morning of Aug. 8, the remaining PT-109 crew survivors were rescued. They reached the US base at Rendova at 5:30 a.m. The ordeal was finally over.
The island scouts Biuku Gasa and Eroni Kumana had enabled the ensuing return to Olasana and the successful American rescue operation on the 7th and 8th of August.

Kennedy was awarded the Purple Heart and the Navy and Marine Corps Medal, the only US president to receive such honors. He was honorably discharged from the Navy in 1945.
Eroni Kumana died in 2014 at the age of 93 and Biuku Gasa died in 2005 at the age of 82

Kennedy later invited them to attend his presidential inauguration in 1961, but the pair was duped en route in Honiara, the Solomon Islands capital, by British colonial officials who sent other representatives instead.[5] Another version of the story is that they were turned back by British officials at the airport due to not speaking English.[6] The story from Biuku's descendants is that the British officials did not want to send Biuku and Eroni because they were simple village men and not well dressed (by the British authorities' standards). The legend of these two men survives to this day among their descendants in the Western Province of the Solomon Islands.
Another scout, Alesasa Bisili, wrote of his experience during the 1942 Japanese landing at Munda in Scouting in Western Solomons. He expressed sadness and anger over the unjust lack of recognition or award given to Solomon Islanders for their services during the war.
However, in recognition of his help, Gasa lived in a house paid for by the Kennedy family ($5,000), National Geographic ($5,000) and the balance ($15,000) by Brian and Sue Mitchell
Kennedys also constructed a house for Eroni Kumana. It collapsed in the 2007 tsunami, but Kumana survived the storm.[8]
CREDIT:
41:49 The coconut on the desk actually has quite a cool story to it. During WW2, John Kennedy was on a patrol boat which was attacked by a Japanese destroyer. The patrol boat sank and Kennedy, along with 10 other men, swam ashore and hid in the jungle. Kennedy carved his name, location and situation into a coconut and asked a local islander to deliver it to a nearby Australian man. That man was actually a spy who was in contact with the US. The entire party was rescued. Kennedy was saved by the delivery of that coconut. He later received the coconut back from the Australian, had it encased in resin and displayed it on his desk all the way up to his death.