The content below is from Episode 159 of the Who'd a Thunk It? Podcast
ANNOUNCEMENT
This episode's main topic is dark, very dark. In this episode, Unit 731, I will be talking about torture, mutilation, and treatment of human beings as if they were "logs." But all of this actually happened and I think it is important for people to know about it.

You have been warned. This is mature content. Viewer and listener discretion is advised.
RECOMMENDATION SEGMENT
Before I get into the main topic, I would like to recommend something light and happy in contrast to how dark this episode is going to be.

This week I recommend you watch the Kill Tony. It is a live comedy podcast that I have been obsessed with.
The weekly live show recorded live from Austin Texas and the world, with your hosts Tony Hinchcliffe and Brian Redban.
It is hilarious. Tony has a live band, a couple of mics, and a live audience. He pulls names out of a bucket and gives whomever he pulls out, 60 seconds of uninterrupted time to do a comedy standup routine. When the 60 seconds are up, Tony and usually a guest comedian interview the aspiring comedian that probably just BOMBED on stage.
The show set up makes every episode unique and enjoyable.
If the aspiring bucket comedian does well (a rarity) then great. Everybody laughs.
If the aspiring bucket comedian does poorly (the usual outcome) Tony and the guest comedian rip into them. This also makes everyone laugh.
NOW FOR THE MAIN EVENT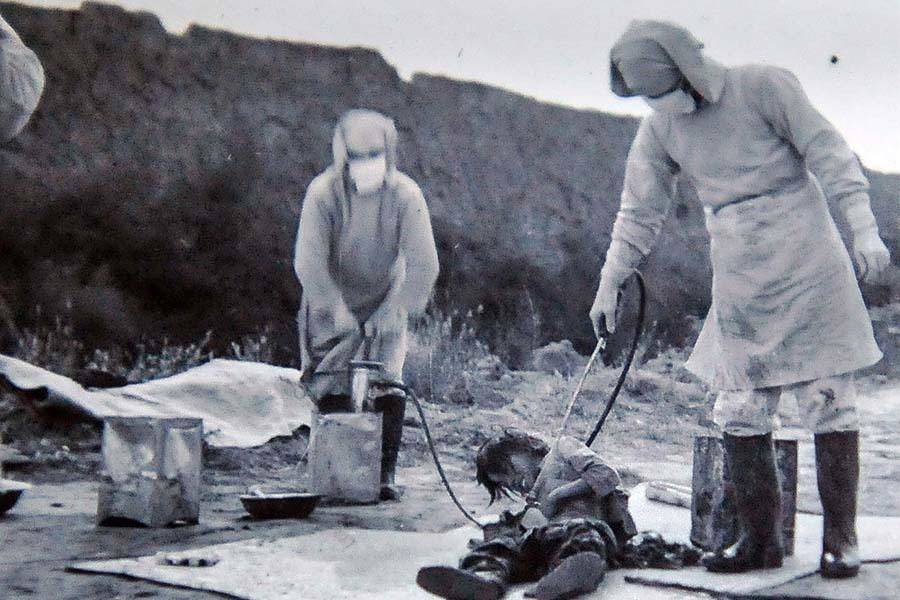 Xinhua via Getty Images -Unit 731 personnel conduct a bacteriological trial upon a test subject in Nong'an County of northeast China's Jilin Province. November 1940.
I've talked about World War 2 quite a bit on this podcast. It is important to know just how much suffering came out of the largest war this planet has ever seen. It killed 3% of the world's population at the time.

"War is Hell" –General William Tecumseh Sherman, a leader of the Union army in the Civil War.
No part of WW2 lasted longer than the Pacific Theater. From Japan's attack on Manchuria in 1931 to September 2nd, 1945 when Japan officially surrendered to the United States.
Japan's invasion of China in 1937 drastically changed the country. It created a civil war, famine, and estimated 3.9 million Chinese (mostly civilian) perished as a direct result.

In the end 10.2 million Chinese died until the Soviets stepped in to "liberate" China in 1945.

During this genocide and mass rape of China, a biological warfare unit simply known as Unit 731 managed to stand out as even more cruel and brutal than what was already happening around them.
What started out as a truly beneficial public health research agency, eventually became a human disease factory. The diseases that were cultivated at Unit 731 had the ability to wipe out human life… all of it. And how did they create such biological weapons?

A virtually endless supply of human test subjects they saw as nothing more than "logs."

Japan started its biological weapons program in the 1930s, partly because biological weapons were banned by the Geneva Convention of 1925; they reasoned that the ban verified its effectiveness as a weapon.[1] Japan's occupation of Manchuria began in 1931 after the Japanese invasion of Manchuria.[11] Japan decided to build Unit 731 in Manchuria because the occupation not only gave the Japanese an advantage of separating the research station from their island, but also gave them access to as many Chinese individuals as they wanted for use as human experimental subjects.[11] They viewed the Chinese as no cost research subjects, and hoped that they could use this advantage to lead the world in biological warfare.[11] The majority of research subjects were Chinese, but many were of different nationalities.
This is another warning. The topics I'm about to discuss include rape, mutilation, and some of the most vile treatment of a human being. Please, if you don't want to hear about these topics just turn off the podcast now.
Here are some of the worst experiments carried out by Unit 731. They are some of the most horrific war crimes ever committed and they basically received no punishment.
Unit 731's Harbin facility.
Rape was common in Imperial Japan's expanse across the Pacific Theater. Unit 731 was no exception.

But instead of the beastial lust driven rape common among Japan's combat units, Unit 731 used rape as a tool to further their understanding of biological warfare.
If a female captive was the right age to become pregnant, the beings operating Unit 731 would have her forcibly impregnated. A pregnant human guinea pig has more potential for insight into a biological weapons effectiveness.
After the female captive was pregnant they would be intentionally infected with various diseases, have parts of their bodies crushed, shot, exposed to chemical weapons, and beaten. After this abysmal suffering, the mother would be disected and the fetus would be examined.
These experiments seemed to have drastically improved medicine for pregnant women after the war.


Documentation of the experiments were destroyed before Unit 731 was shut down. However, the witness accounts say it happened. And the innovations in healthcare for pregnant women that came out of Manchuria support witnesses' claims.
A Unit 731 doctor operates on a patient that is part of a bacteriological experiment.
One part of Unit 731 was known as Maruta.

Their job was to study the effects of disease and injury on enemy combat units.
At first they took volunteers from the Imperial Army for non-lethal diseases that could be easily observed.
But as the Maruta team wanted to study more harmful diseases and injuries and as the volunteers started to not show up to be butchered/infected… they changed tactics.
Maruta is Japanese for "log." This unit started using POWs for their research subjects and therefore no longer had to ask for consent.

They no longer used any semblance of ethical restraint.

Vivisection is defined as:

Vivisection is surgery conducted for experimental purposes on a living organism, typically animals with a central nervous system, to view living internal structure

The Maruta team didn't use anethesia as they vivisected living victims.
Mostly Chinese Civillians were infected with cholera and the black plague. Then their organs would be removed before they died. This gave Unit 731 the best insight into the effects of each disease as the organs wouldn't have started to decompose at all.
Other than disease, Maruta team would amputate limbs and sew them back on to other parts of the body to see what would happen. All while the victim was alive and without any sort of pain management.

Other victims would have parts of their bodies crushed, frozen, and/or circulation cut off to see how gangrene works on the body.

When a victim's body, or "log" as they were referred to by the Japanese, could no longer provide any insight, they were shot or sometimes they didn't even bothered… burying the POWs alive. Not a single Chinese, Mongolian, Korean, or Russian prisoner sent to Unit 731 left alive.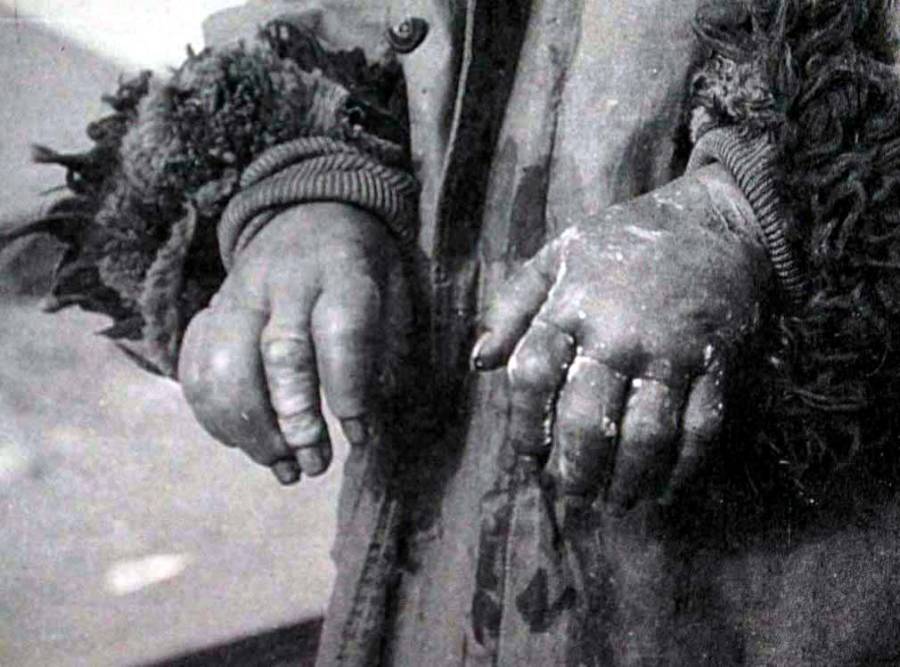 The frostbitten hands of a Chinese person who was taken outside in winter by Unit 731 personnel for an experiment on how best to treat frostbite.
There was a special interest in hypothermia at Unit 731. A man known as Yoshimura Hisato preferred to study what extreme cold did to limb injuries.

He would take POWs and force their limbs into freezing water until the flesh was solid. Yoshimura would inspect the frozen limb by striking it with something solid. Unless the limb sounded like striking lumber, the limb would go right back into the ice bath.
He would then rapid warm the frozen limb in different ways to see if he could get it to be functional again.

He would pour hot water over the frozen limbs. He would also sit the victim next to a fire or simply let it thaw over time.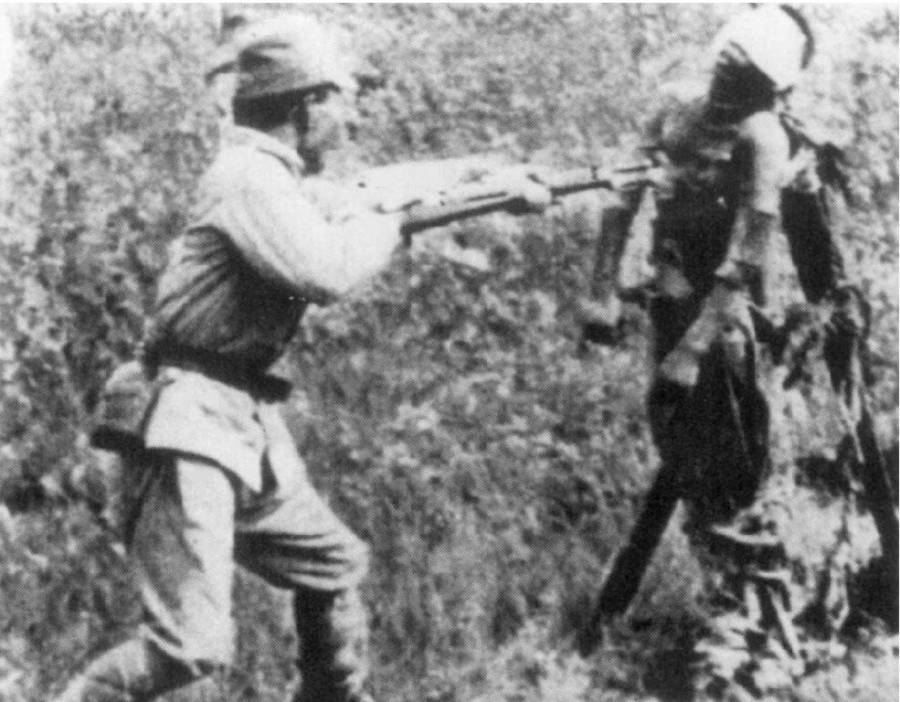 A Japanese soldier uses a Chinese man's body for bayonet practice near Tianjin, China. September 1937.
To optimize Japan's fighting forces, Unit 731 was tasked with testing various weapons on living targets.

There were many instances of lining POWs up on firing ranges and testing every firearm on them.
Unit 731 measured and documented the wound patterns and depths of dead and dying inmates.

Bayonets, swords, knives, flamethrowers, gas chambers, nerve gas, and blister agents were used on bound subjects.

The military wanted to know the effectiveness of a flamethrower or nerve gas on a clothed victim as opposed to bare skin.
They dropped heavy objects to see how the human body is crushed.
They deprived inmates of food and/or water to see what would happen to their bodies, to see how long it would take for them to die.
They made some subjects only drink seawater until death.
They injected animal blood into victims to see how it clotted differently.

The invention of the Xray was in 1895 and long term effects not fully known at the time.

Unit 731 exposed thousands to way too much Xray and were sterilized or killed from it.
The Xray is a complicated procedure. Often the plates weren't calibrated correctly and victims burned to death on the table.

To see what the human body can endure in terms of GForce (to benefit the Imperial Airforce) Unit 731 spun people at forces that are unheard of today.

At around 10 to 15Gs subjects lost conciousness and died. They found the younger the child, the less tolerance for GForce…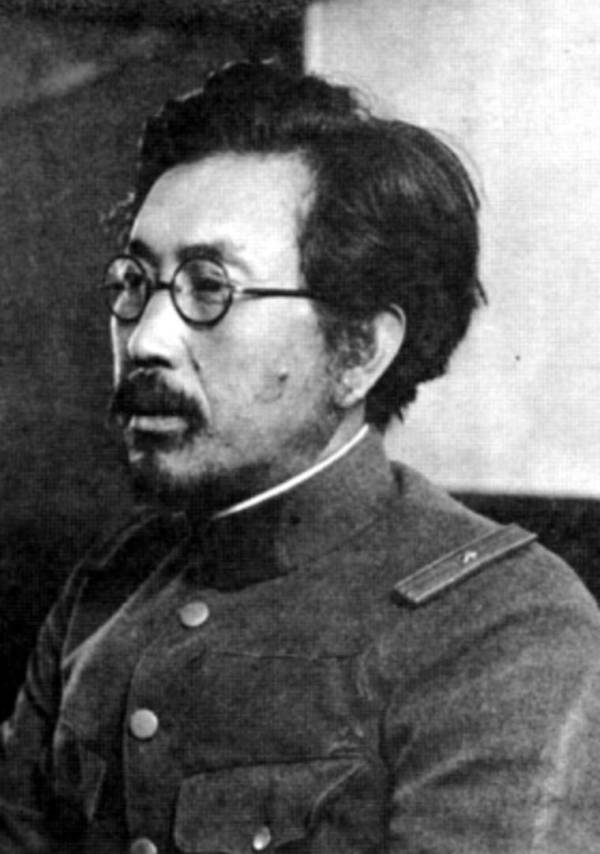 General Shiro Ishii, the commander of Unit 731.
The Imperial military was having a major problem with STDs as it raped its way across Asia. So Unit 731 was tasked with learning more about venereal diseases… especially sythilis.

Doctors infected POWs with syphilis and simply withheld treatment to see what would happen. Syphilis can be fatal if not treated.
Male inmates infected with syphilis would be forced to rape both female and male inmates to spread the disease. If it didn't take on, they were forced to rape until the rape victim showed signs of having syphilis.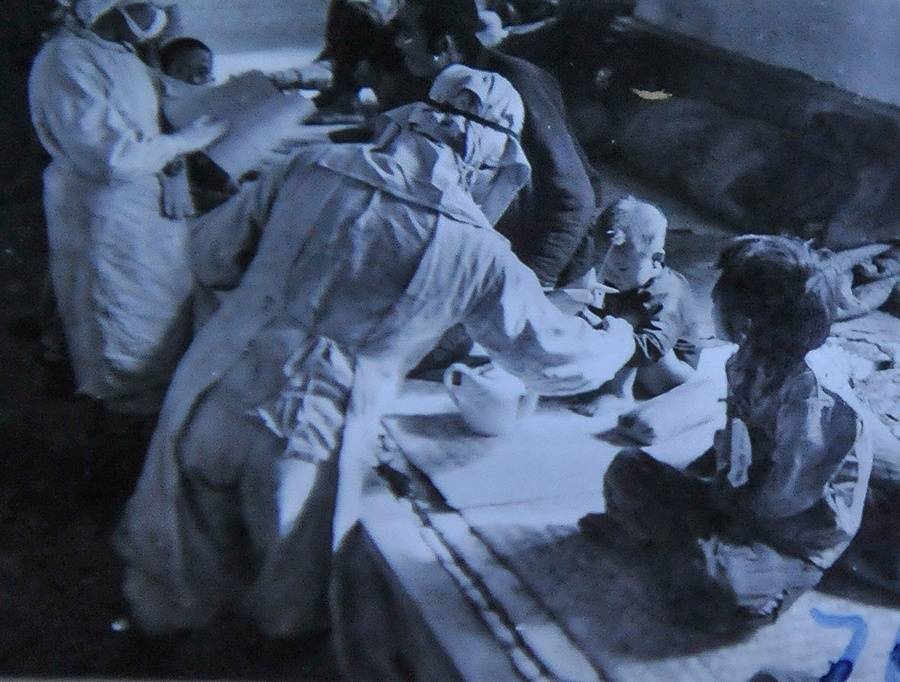 Unit 731 researchers conduct bacteriological experiments with captive child subjects in Nongan County of northeast China's Jilin Province. November 1940.
The end goal was for Unit 731 to develop biological weapons against their enemies such as Allied and Soviet forces.

They used tens of thousands of prisoners to weaponize lethal pathogens like Yersinia Pestis (bubonic and pneumonic plague) and typhus. The thought was to drop these on enemy populations and thin out their numbers.

AllThingsInteresting.com reads:
To breed the most lethal strains possible, doctors monitored patients for rapid onset of symptoms and quick progression. Victims who pulled through were shot, but those who got sickest fastest were bled to death on a mortuary table, and their blood was used to transfect other captives, the sickest of whom would themselves be bled to transfer the most virulent strain to yet another generation.
One member of Unit 731 later recalled that very sick and unresisting captives would be laid out on the slab so a line could be inserted into their carotid artery. When most of the blood had been siphoned off and the heart was too weak to pump anymore, an officer in leather boots climbed onto the table and jumped on the victim's chest with enough force to crush the ribcage, whereupon another dollop of blood would spurt into the container.
When the plague bacillus had been bred to what was felt to be a sufficiently lethal caliber, the last generation of victims to be infected were exposed to huge numbers of fleas, Y. pestis' preferred vector of contagion. The fleas were then packed in dust and sealed inside clay bomb casings.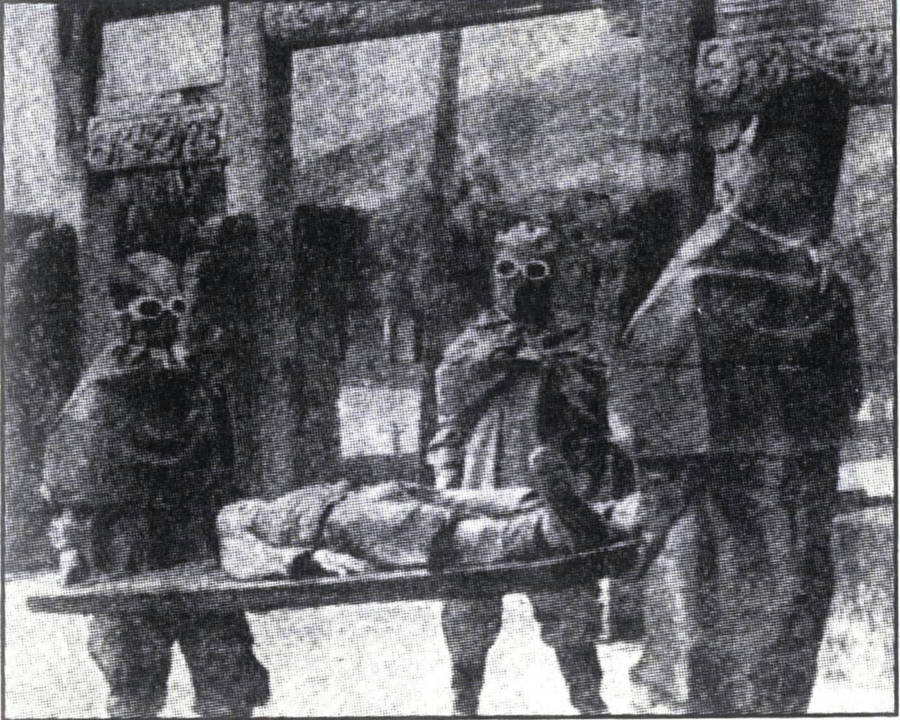 Japanese personnel in protective suits carry a stretcher through Yiwu, China during Unit 731's germ warfare tests. June 1942.
In October of 1940 the Japanese airforce dropped casings filled with fleas that had sucked the blood from dying diseases prisoners over a Chinese village known as Quzhou.

Those who were there saw a red mist descend upon them and then feeling flea bites.
2,000 died in Quzhou from the plague
1,000 died in the next town over after it was brought their from commuters from Quzhou
6,000 people died when the Japanese dropped anthrax on another town.
Plans were found that outlined Japan's intent to do the same to US towns.

But in 1945 we dropped Fat Man and Little Boy on Hiroshima and Nagasaki.

The Soviets invaded Manchuria, destroying the Japanese army.
And Emperor Hirohito gave his surrender speech in August of 1945
Unit 731 was no more.
Unit 731 was responsible for some of the most notorious war crimes committed by the Japanese armed forces. It routinely conducted tests on people who were dehumanized and internally referred to as "logs". Experiments included disease injections, controlled dehydration, hypobaric chamber experiments, biological weapons testing, vivisection, amputation, and standard weapons testing. Victims included not only kidnapped men, women (including pregnant women) and children, but also babies born from the systemic rape perpetrated by the staff inside the compound. The victims came from different nationalities, with the majority being Chinese and a significant minority being Russian. Additionally, Unit 731 produced biological weapons that were used in areas of China not occupied by Japanese forces, which included Chinese cities and towns, water sources, and fields. Estimates of those killed by Unit 731 and its related programs range up to half a million people, and none of the inmates survived.
It was officially known as the Epidemic Prevention and Water Purification Department of the Kwantung Army (関東軍防疫給水部本部, Kantōgun Bōeki Kyūsuibu Honbu). Originally set up by the Kenpeitai military police of the Empire of Japan, Unit 731 was taken over and commanded until the end of the war by General Shirō Ishii, a combat medic officer in the Kwantung Army. The facility itself was built in 1935 as a replacement for the Zhongma Fortress, and Ishii and his team used it to expand their capabilities. The program received generous support from the Japanese government until the end of the war in 1945. Unit 731 and the other units of the Epidemic Prevention and Water Purification Department operated biological weapon production, testing, deployment, and storage facilities.
While Unit 731 researchers arrested by Soviet forces were tried at the December 1949 Khabarovsk war crime trials, those captured by the United States were secretly given immunity in exchange for the data gathered during their human experiments.[6] The United States covered up the human experimentations and handed stipends to the perpetrators.[1] The Americans co-opted the researchers' bioweapons information and experience for use in their own biological warfare program, much like what had been done with German researchers in Operation Paperclip.[7][8]
Its records were mostly burned, destroying any useful information the team had managed to generate in 13 years of research. Researchers mostly slipped back into civilian life in occupied Japan as if nothing had ever happened, many of them becoming prominent members of university faculty.
To this day, Japan has not apologized for, and China has not forgiven, the countless atrocities Japanese forces visited upon China between 1931 and 1945. As the last witnesses to this history grow old and die, it's possible that the matter will never be addressed again.
CREDIT
R/HistoryMemes:
candiedloveappleOP:

The japanese abducted chinese civilians, put them into a heat chamber and blasted them with hot air until they had the consistency of Jerky and then they cross referenced the amount of evaprated and collected water with the mass of the corpse before and after being tortured to death.

baiqibeendeleted28x·

The Empire of Japan is a serious contender for the most evil regime in human history. Their atrocities are just overlooked because Japan is so well liked in the West now ("bu-bu-but this sub talks about them!", this sub is not representative of real life, shocker).
Indiscriminate massacre of civilians. Slaughter of entire cities, torture, inhumane treatment of POWs, comfort women, etc.
Over the course of their conquest of East Asia, the Japanese Army forced around 200,000 women into the ranks of "comfort women". These women mainly came from China, Korea, and the Philippines. Unfortunately this is the one thing I couldn't dig up the source for, but I distinctly remember reading the firsthand account of a Filipino comfort women who was raped 10x a day. Japan has yet to even officially apologize to them.
You think that's the worst? During the Rape of Nanking, as many as 300,000 Chinese civilians were massacred within a month in a single city. Japanese soldiers paraded around with babies skewered on their bayonets like kebabs. Two Japanese officers held a competition to see who could behead 100 people the fastest and when the score was 105-106 and no one knew who got to 100 first, they restarted the contest, this time to 150 people. Civilians were buried alive en masse. Prisoners were used as live bayonet practice, screaming as the final moments of their life was used for the Japanese to sadistically torment. Tens of thousands of women were raped, most of whom were executed afterward. They dragged entire Chinese families into public squares and forced fathers on their daughters and sons on their mothers for the amusement of Japanese troops. I'm not an easily disturbed guy, but reading this fact for the first time physically made my stomach sick.
You think that's the worst? The Imperial Japanese Army ran Unit 731: a biological/chemical warfare research program in Manchuria where Japanese researchers performed human experimentation on a large scale, using Chinese civilians as the majority of their "logs" (test subjects).
Living humans were dissected alive, usually without anesthesia. Subjects had limbs amputated in order to study blood loss and pain tolerance. Those limbs were sometimes reattached to the opposite sides of the body. Subjects had their stomachs or esophagus surgically removed. Subjects were gotten pregnant via rape then infected with diseases to see the effect on their baby. Subjects were forced into the cold to research frostbite then had their frozen limbs chopped off. Subjects were placed in pressure chambers until their eyeballs popped out of their sockets. This one is unconfirmed, but supposedly they placed a women and her baby in a room then heated up the floor to see if she'd step on her own baby.
Back in 1995, an anonymous Japanese medical assistant who worked in Unit 731 sat down for an interview with the New York Times and described one such dissection:
The entire world still cries over the civilians of Hiroshima and Nagasaki to this day. But hardly anyone sheds a tear for the millions of victims of the Empire of Japan.
Unit 731, Imperial Japan's biological/chemical warfare research program based in Manchuria, is among the most disgusting atrocities in human history. Japanese researchers performed human experimentation on a large scale, using Chinese civilians as the majority of their "logs" (test subjects).
Some particularly brutal experiments performed on prisoners included:
Frostbite testing (upon which the subject's frozen limbs would be chopped off)
Intentional disease infection (infected prisoners were forced to have sex with uninfected to study the transfer of disease)
Live targets for weapon testing, including flamethrowers (pic from Nanking, no known pictures of human targets from Unit 731)
Forced pregnancy from rape
Pressure chamber (subjects were placed inside and the pressure turned up until their eyeballs popped out of their sockets)
Dissection of living humans beings without anesthesia
You read the last one right… the Japanese dissected living human beings. Subjects had limbs amputated, their stomachs or esophagus surgically removed, and all sorts of inhumane procedures to "study" blood loss and pain tolerance. That amount of agony probably can't even be comprehended, but back in 1995, an anonymous Japanese medical assistant who worked in Unit 731 described a dissection.